I've lived forty years without reading Toni Morrison. I've lived as a literary heathen for forty years.
But, Sula baptized my sins away as I washed in the glory of Ms. Morrison's words.
I fell in love with Sula.
I fell in love with a woman deemed Satan personified.
I fell in love with her, despite her off-putting ways, because she did as she pleased. Her free spirit was a massive middle finger to the Medallion community, and more so, fellow African-Americans off the page.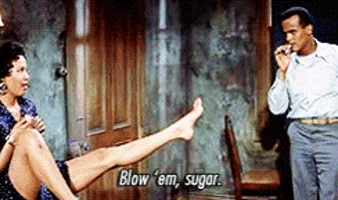 This isn't Sula. This is Carmen Jones. One woman I thought baddest of all. Sula's a stronger contender.

Quick in pace, Morrison's rich language turned phrases upside-down, flip them, and rotated them another 180 degrees. Describing the eponymous character, Morrison cited: "and like any artist with no art form, she became dangerous." Sula presents danger to those caught in her vibe's embrace. We feel like Hell after she leaves.
Additionally, Morrison created characters worthy of attention from Sula, a wicked (subjective in itself) free spirit to Nel, her friend, who may not be as nice as she lets on to Shadrack, a man suffering from PTSD from WWI, living in his own world, unfazed by others. Poor Chicken Little and Plum! A small scene that created a large ripple in the girls' lives. I didn't like the callous way the event went down. But, Ms. Morrison needed us to see how bad their reactions reverberated off the page. Evil Eva! Enough said. We're in their world, as readers, but we never quite leave after we closed the book. We're trapped, lucky in encapsulating mild Stockholm Syndrome for one more glance.
Yet, I would've liked more time with Sula, the main character. Since this book was created in 1975, I don't think Ms. Morrison cares about my preference for time. Also, in some chapters I became confused by perspective. I detest head-hopping.
Otherwise, I can skip the one true con and give this story a 5 for shaking me to my core – an earthquake my soul needed. Sula delivered in her finest threads without shame.
"Lonely, ain't it?
Yes, but my lonely is mine. Now your lonely is somebody else's. Made by somebody else and handed to you. Ain't that something? A secondhand lonely."