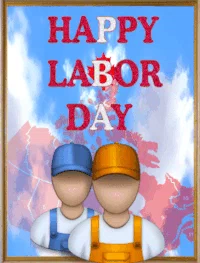 Wish an American worker a good day, while sloshing on iced drinks and enjoying a hamburger. Today's considered the unofficial end of summer (Granted, Southern Californians know the truth weather-wise, lol).
Along with celebrating the American worker, here are five Labor Day facts:
Hot dog season's a goner. More people eat hot dogs during the summer. We trade the buns for pumpkin "fill in the blank" and other warmer treats.
Football season begins. While I'm not a football widow (a wife that loses her husband to football each season), many women experience this reality. I'm more of a basketball widow, but I feel their pain.
While the old fashion rule dictated ditching white (a summer-like color) for darker gear, some choose to follow the new rule. I'm not a white clothing wearer myself (I tend to get messier when I wear white, so I add color to my wardrobe to save myself embarrassment).
The biggest union in America is the NEA (National Education Association) with 3 million, active/inactive and lifetime included.
If your children have returned to school before Labor Day weekend, they definitely return during the week of the holiday. Get to sleep, kids, after the cookout. No time for staying well past your bedtime.
Have a great day with your family and friends, no matter your plans.