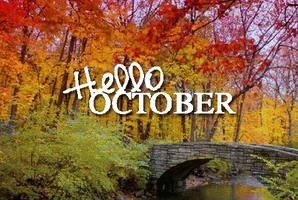 Crispier weather. Skinny jeans and cardigans. Halloween. Scary movies. Candy. Costumes. Happy Happy Joy! Here's to a new month filled with plans, schemes, books, a manuscript in desperate need of attention, and movies.
My Blog Plans
Read four books to chill me, thrill me, and scare me.
Watch a scary movie or two a week and give a mini-review.
A scary poem or two scattered here and there like witches brew on old bones.
Scary Quotes to Die By…Ha! (Normally I post quotes to live by…Get it?)
Top Ten Tuesdays regarding Halloween in some way. Why waste the month?
Books I Plan To Read
This month I'm digging into my thriller cache like a beast. Time's slipping. Night's coming earlier as the season progresses. Chills knocking on my door. It's time for some scary forays, people. Hang on tight.
When Olivia's mother was killed, everyone suspected her father of murder. But his whereabouts remained a mystery. Fast forward fourteen years. New evidence now proves Olivia's father was actually murdered on the same fateful day her mother died. That means there's a killer still at large. It's up to Olivia to uncover who that may be. But can she do that before the killer tracks her down first? – Goodreads
Alexia Tarabotti is laboring under a great many social tribulations. First, she has no soul. Second, she's a spinster whose father is both Italian and dead. Third, she was rudely attacked by a vampire, breaking all standards of social etiquette.
Where to go from there? From bad to worse apparently, for Alexia accidentally kills the vampire—and then the appalling Lord Maccon (loud, messy, gorgeous, and werewolf) is sent by Queen Victoria to investigate.
With unexpected vampires appearing and expected vampires disappearing, everyone seems to believe Alexia responsible. Can she figure out what is actually happening to London's high society? Will her soulless ability to negate supernatural powers prove useful or just plain embarrassing? Finally, who is the real enemy, and do they have treacle tart?
SOULLESS is a comedy of manners set in Victorian London: full of werewolves, vampires, dirigibles, and tea-drinking. – Goodreads
Salem, Massachusetts is the site of the infamous witch trials and the new home of Samantha Mather. Recently transplanted from New York City, Sam and her stepmother are not exactly welcomed with open arms. Sam is the descendant of Cotton Mather, one of the men responsible for those trials and almost immediately, she becomes the enemy of a group of girls who call themselves The Descendants. And guess who their ancestors were?
If dealing with that weren't enough, Sam also comes face to face with a real live (well technically dead) ghost. A handsome, angry ghost who wants Sam to stop touching his stuff. But soon Sam discovers she is at the center of a centuries old curse affecting anyone with ties to the trials. Sam must come to terms with the ghost and find a way to work with The Descendants to stop a deadly cycle that has been going on since the first accused witch was hanged. If any town should have learned its lesson, it's Salem. But history may be about to repeat itself. – Goodreads
Merricat Blackwood lives on the family estate with her sister Constance and her Uncle Julian. Not long ago there were seven Blackwoods—until a fatal dose of arsenic found its way into the sugar bowl one terrible night. Acquitted of the murders, Constance has returned home, where Merricat protects her from the curiosity and hostility of the villagers. Their days pass in happy isolation until cousin Charles appears. Only Merricat can see the danger, and she must act swiftly to keep Constance from his grasp. – Goodreads
A year ago, Sunny Nwazue, an American-born girl Nigerian girl, was inducted into the secret Leopard Society. As she began to develop her magical powers, Sunny learned that she had been chosen to lead a dangerous mission to avert an apocalypse, brought about by the terrifying masquerade, Ekwensu. Now, stronger, feistier, and a bit older, Sunny is studying with her mentor Sugar Cream and struggling to unlock the secrets in her strange Nsibidi book.

Eventually, Sunny knows she must confront her destiny. With the support of her Leopard Society friends, Orlu, Chichi, and Sasha, and of her spirit face, Anyanwu, she will travel through worlds both visible and invisible to the mysteries town of Osisi, where she will fight a climactic battle to save humanity.

Much-honored Nnedi Okorafor, winner of the Hugo, Nebula, and World Fantasy awards, merges today's Nigeria with a unique world she creates. Akata Warrior blends mythology, fantasy, history and magic into a compelling tale that will keep readers spellbound. – Goodreads
I read 
Akata Witch
 and highly recommended the tale. So, as soon as I heard of its sequel, I pre-ordered without delay. This book drops October 3rd. So, grab a copy as soon as possible.
∗Short list, yes. But, if you look at the positive, I'm leaving room for more stories as the month progresses. Keeping my monthly TBR lists low (at least 4 books) grants room to find books without beating myself over the head for creating a rigid schedule. Gotta leave room to flex, folks!∗
Movies/T.V. Shows I Plan To Watch
 Friday, October 13th
Friday, October 27th
Friday, October 27th
Add all the horror films I can muster and October's a good month for entertainment.
As for Halloween…
I stay close to home, watching scary films and digging into my youngest son's candy treasures. Call me corny. But, costumes are not my thing and I prefer to get my kicks off of screams and toothaches. From Freddy Krueger to Jason, I'm slashing and grabbing mini snickers and candy corn within the safety of my house.
What's on your list for October? Are you laying low or are you doing October big? Whatever your plans, be safe and merry. Feel free to share in the comments.