Good Morning!
I'm still here. I'm reading, but not writing (Ah! I need to get back into a stable routine). My dental surgery recuperation is going along swimmingly. My refrigerator's running away from me. So, today I'm shopping for a new one.  Also, my kids are home for a full week of Thanksgiving break.
I'm still standing, lol.
Despite the drama of driving my turkey to my in-laws for safekeeping, not only have I found books to keep my mental state stress-free, but my favorite holiday films are chugging along on my t.v./streams.
Home for the Holidays should be deemed a Thanksgiving classic. I watch it during Thanksgiving week, ever since it's debut in 1995. Eccentric family + food + drama = a great meal and unfortunate nostalgia for seeing your clan again.
Okay, it's not Christmas yet. But, given that Thanksgiving's seen as its seasonal gateway, let's be honest. It's time. The Family Stone, like the previous movie, illustrates the perfect equation for family drama, hijinks, and a warm spot for our dysfunctional hearts.
As I sustain on a diet of mashed potatoes, Jello, and other soft foods, these two movies, at least, keep my mind off my recuperation, albeit for four hours.
As for reading, I finished Karin Slaughter's The Good Daughter.
I like Slaughter's stories. They're suspenseful, filled with unlikable characters, and crazy plots. They snatch your attention, while whirling you in a tailspin.
Pros:
1. The sister dynamic floored me. Sam appeared to be the most fitting in her anger, but she's aims for peace and quiet resolution; whereas, her sister Charlie, seemingly goes through life angry, despite (seemingly) having the least to be angry for. When info reaches the reader, well, reasons behind their personalities grant far complex pictures than previously understood.
2. I liked the ending. I assumed I knew plot points and Slaughter informed me that I needed to experience the full ride before gambling on potential endings.
Cons:
1. I love Slaughter's writing, but she tends to overwrite, offering information that slows her stories' pacing. Often, some information requires more editing than she believed.
2. As described in con #1, the book's long. With some editing, the story would move faster.
Verdict: 3.5 out of 5. A good story with complex characters among small town tragedy. Unfortunately, overwriting filled with informational not necessarily pivotal to its plot slows its pacing, making the tale seem longer to finish. Still worth a read, though.
At the moment, I'm still reading Wonder.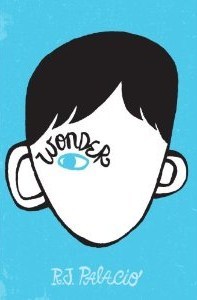 But, I'm finding myself a wee bit bored, despite its hype. So, I've sat it down. I'll return by month's end. With The Diviners calling my name, I prefer to spend some time with that tale of magic and mayhem.
Well, I'm off to some refrigerator showrooms (Good times, people!). Enjoy your Monday. Don't let it get you down!!!