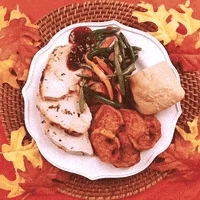 I hope you enjoy some great food and time with your family and friends. Wear your best stretchy pants and get down to business. I plan on grubbing on turkey and whatever else my in-laws add to their spread. No worries about stretchy pants. It's 90 degrees here in L.A., so I'm wearing a cute sundress and sandals.
What?!?! LOL
Whatever you eat, enjoy and many blessings to you and yours.
P.S. Try to have bail money on hand for those family members itching for scandal.