Happy Friday! Need something fun to read this long weekend? Let me help you.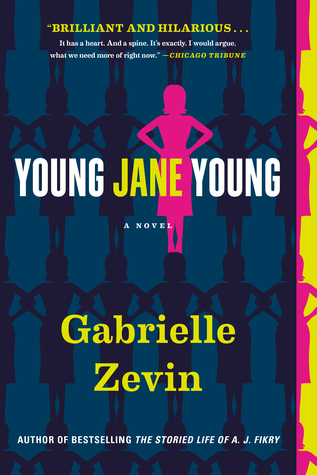 According to Goodreads…
Young Jane Young's heroine is Aviva Grossman, an ambitious Congressional intern in Florida who makes the life-changing mistake of having an affair with her boss‑‑who is beloved, admired, successful, and very married‑‑and blogging about it. When the affair comes to light, the Congressman doesn't take the fall, but Aviva does, and her life is over before it hardly begins. She becomes a late‑night talk show punchline; she is slut‑shamed, labeled as fat and ugly, and considered a blight on politics in general.

How does one go on after this? In Aviva's case, she sees no way out but to change her name and move to a remote town in Maine. She tries to start over as a wedding planner, to be smarter about her life, and to raise her daughter to be strong and confident. But when, at the urging of others, she decides to run for public office herself, that long‑ago mistake trails her via the Internet like a scarlet A. For in our age, Google guarantees that the past is never, ever, truly past, that everything you've done will live on for everyone to know about for all eternity. And it's only a matter of time until Aviva/Jane's daughter, Ruby, finds out who her mother was, and is, and must decide whether she can still respect her.
The book differs from this blog. The former sets a first or third person perspective based on one person, Aviva, and her controversy. However, readers grasp multiple perspectives of her scandal and its effects on their lives. A dramedy really, this tale pinpoints gray areas in our behavior and how no one's clean.
Goodreads says…
'Kissing you is like new paint and old pain. It is like coffee and car alarms and a dim stairway and a stain and it's like smoke.' ('Placing a Call') How does love change us? And how do we change ourselves for love – or for lack of it? Ten stories by acclaimed author Deborah Levy explore these delicate, impossible questions. In Vienna, an icy woman seduces a broken man; in London gardens, birds sing in computer start-up sounds; in ad-land, a sleek copywriter becomes a kind of shaman. These are twenty-first century lives dissected with razor-sharp humour and curiosity, stories about what it means to live and love, together and alone.
Whenever I travel, I walk, run, sprint – whatever it takes – to the nearest bookstore and snag a book piquing my interest. This short story collection – snagged while on a recent trip to London – did, and while the namesake's story surpasses most of them, it's worth a read.
What say you, Goodreads?
An original, imaginative, and hilarious debut novel about love, anxiety, and sea creatures, from the author of So Sad Today.

Lucy has been writing her dissertation about Sappho for thirteen years when she and Jamie break up. After she hits rock bottom in Phoenix, her Los Angeles-based sister insists Lucy housesit for the summer—her only tasks caring for a beloved diabetic dog and trying to learn to care for herself. Annika's home is a gorgeous glass cube atop Venice Beach, but Lucy can find no peace from her misery and anxiety—not in her love addiction group therapy meetings, not in frequent Tinder meetups, not in Dominic the foxhound's easy affection, not in ruminating on the ancient Greeks. Yet everything changes when Lucy becomes entranced by an eerily attractive swimmer one night while sitting alone on the beach rocks.

Whip-smart, neurotically funny, sexy, and above all, fearless, The Pisces is built on a premise both sirenic and incredibly real—what happens when you think love will save you but are afraid it might also kill you.
While odd in nature – think Shape of Water – this tale speaks of addiction, sadness, and a general malaise – nothingness – experienced by some women.
Whatever you pick this weekend, enjoy and pass the word.
Image credit Tom Hermans@tomhermans