Yes, I Am…
…a vegetarian.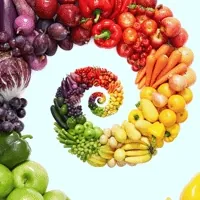 No need to worry. I'm not one of those sanctimonious versions either. If you get down on the hog or ribeye, do your thing.
I'm not even bothered by this flipping burger.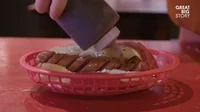 Look, I feel nothing about this hot dog.
However, may I suggest kindness and consideration this Memorial Day Weekend by remembering your vegetarian and/or vegan friends. Have something on hand for them to munch during your cookout or grilling session. Or, do not be afraid to ask us if we'd like to bring something instead.
Rude! Please feed everyone invited.
Yet, if you find yourself rushing to make a salad (Nice, but lacking imagination) or thaw tasteless veggie burgers (Boca Burgers are delicious investments, though), forget about the hassle. I've included four tasty dishes to serve.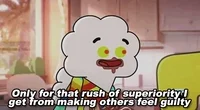 Just kidding…maybe
Avocado Pasta

INGREDIENTS:
12 ounces spaghetti
2 ripe avocados, halved, seeded and peeled
1/2 cup fresh basil leaves
2 cloves garlic
2 tablespoons freshly squeezed lemon juice
Kosher salt and freshly ground black pepper, to taste
1/3 cup olive oil
1 cup cherry tomatoes, halved
1/2 cup canned corn kernels, drained and rinsed
DIRECTIONS:
In a large pot of boiling salted water, cook pasta according to package instructions; drain well.
To make the avocado sauce, combine avocados, basil, garlic and lemon juice in the bowl of a food processor; season with salt and pepper, to taste. With the motor running, add olive oil in a slow stream until emulsified; set aside.
In a large bowl, combine pasta, avocado sauce, cherry tomatoes, and corn.
Serve immediately.
Image and Recipe found on DamnDelicious.net
Vegetarian Orzo Stuffed Peppers
Ingredients
½ cup uncooked orzo
2 large red bell peppers
1 tablespoon extra-virgin olive oil, plus more for drizzling
1 garlic clove, minced
½ cup cooked chickpeas, drained and rinsed
3-4 kale leaves stems removed, chopped
⅓ cup crumbled feta cheese
juice and zest of 1 small lemon
big handful of chopped fresh mint
pinch of red pepper flakes
sea salt and freshly ground black pepper
white cheddar or pepper jack cheese, to melt on top (optional)
herbed yogurt sauce (optional):
⅓ cup greek yogurt
a drizzle of olive oil
finely chopped mint, basil or oregano
squeeze of lemon
sea salt, to taste
Instructions
Preheat the oven to 400°F and line a baking sheet with parchment paper.
In a pot of salted boiling water, cook the orzo pasta for about 7-9 minutes, or until al dente.
Meanwhile, roast your bell peppers. Slice them in half and remove the seeds and ribbing. Drizzle each half with olive oil and sprinkle generously with salt and pepper. Place cut side up and roast them for 20 minutes or until they become soft and golden brown around the edges.
Prepare your filling. In a large glass bowl, combine the olive oil, garlic, kale, and chickpeas. When your orzo is al dente, drain it and add it (warm) to the bowl and toss. Stir in the feta cheese, lemon juice, lemon zest, mint, red pepper flakes and generous pinches of salt and pepper. Taste and adjust seasonings.
Fill the red pepper halves with the orzo salad and serve.
Optional: add a layer of white cheddar or pepper jack cheese on top of your stuffed peppers and pop them under the broiler (or a hot oven), until the cheese is bubbling and browned.
Optional: mix together the yogurt sauce ingredients and serve on the side.
Notes
make it gluten-free: use millet or quinoa instead of orzo
make it vegan: skip the cheese and add something tangy like olives or sun dried tomatoes.
Grilled Vegetables with Whipped Garlic Feta Dip
Ingredients
For the Whipped Garlic Feta Dip:

8

 

ounces

 

Happy Farms Preferred feta cheese

3

 

ounces

 

Happy Farms cream cheese

1/2

 

cup

 

Friendly Farms plain Greek yogurt

1/2

 

teaspoon

 

Stonemill dried oregano

1

 

teaspoon

 

minced garlic

1/2

 

lemon

 

juiced

For the vegetables:

4

 

bell peppers

 

sliced

1

 

bunch asparagus

3

 

zucchini

 

sliced

1

 

large purple onion

 

quartered

1

 

teaspoon

 

SimplyNature Organic Extra Virgin Olive Oil

Stonemill salt

 

pepper to taste
Instructions
Combine all the ingredients for the Whipped Garlic Feta Dip in a food processor and mix until smooth.

Preheat the grill to medium heat.

Mix the vegetables with the olive oil, salt, and pepper.

Grill the vegetables 5-8 minutes on each side until tender, but not mushy.

Serve hot with the Whipped Garlic Feta Dip
Recipe Notes
Cut your vegetables into large pieces so they will not fall through the grill!
Thank you Julie Wunder from runninginaskirt.com
Leave room for dessert?
Grilled Vanilla Peaches
Author:

 
Prep Time: 

15 mins

Cook Time: 

15 mins

Total Time: 

30 minutes

Yield: 

8
Ingredients
8 peaches
1 lemon
1 tbsp. vegetable oil
1 1/2 tbsp. light-brown sugar, packed
2 tsp. water
2 tsp. pure vanilla extract
1/8 tsp. ground cinnamon
1/8 tsp. coarse salt
1 quart vanilla nondairy ice cream
---
Instructions
Peel, halve, and pit peaches.
Preheat grill to high. Combine lemon juice and vegetable oil in a bowl. Add peaches; toss to coat. Place peaches (with liquid) on a large piece of parchment-lined foil.
Stir together brown sugar, water, vanilla extract, cinnamon, and salt. Brush over peaches. Fold foil to form a packet, crimping edges to seal. Grill, covered, for 15 minutes.
Slice peaches, and divide among 8 bowls. Top with scoops of ice cream.
With thanks for the recipe, wellvegan.com
(I make various recipes from these bloggers. Please stop by and show some love.)
∗Along with these recipes, make a pitcher of fresh juice, lemon-cucumber water, and iced tea, sweetened or unsweetened.∗
Bon Appetit and Do Not Forget the Sunscreen!
Featured Image Credit Dragne Marius @marius_dragne