What's on your booket list?
C'mon, most readers and writers cultivate one.
What's a booket list, you ask?
Think bucket list. Experiences one must own before they die, perish, or leave the Earth. A booket list, according to Urban Dictionary, contains books, or for those desiring expansion like me, literary experiences one wishes to check before they die.
Hence, I read a lot of books. I'm a bookworm. Textbook all the way. As I type this, I scan my bookshelves, glancing books I've read and those I've yet, while I add books to my reading list, thus creating a never-ending book pile.
But, I have NOT read books some would say I should have read by my given age. (Don't ask. You need not know.)
Really, you can apply a bucket list to anything.  Travel (Places My Bucket List Begs Me To Check Off (Part I) ), careers, or whatever comes to mind.
Quelle horror!
What are those books?
Oh boy. Here's a big can of worms. Don't judge me.
Booket List Featuring Books Alone
Lolita – Okay, I started reading this book. But, the purple prose annoyed me and dude made my skin crawl as he described his fascination with her. So, I stopped.
---
To Kill A Mockingbird – I know. I know. Put your guillotine away. Growing up with the movie readily available nixed opportunities to read this book. Also, since I attended honor English classes, it never made my syllabuses. Hey, I read The Hunchback of Notre Dame. Can you say the same?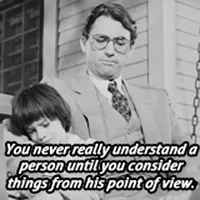 ---
Rebecca – I will buy this book when I get to Paris in November. Makes sense, right?
Disclaimer: I see the correlation between these three books possessing movie adaptations and my chance of reading the original work. Trust. This revelation has not failed me.
---
Jane Austen – Her work period. Something about her annoys me. Maybe it's whining about class when you're on top. Whatever. I'll read one of her books at least before my life ends. Emma? Persuasion? Pride and Prejudice? An embarrassment of riches, I say.
---
James Baldwin – Two down, If Beale Street Could Talk and Giovanni's Room, five to go! My heart and soul are stronger than ever each time I read his work. I'm saddened my derriere didn't read him sooner.
---
There you have it! The "Books I Must Read Before I Die" section of my booket list. Part II will highlight literary experiences I must accomplish before I die. Yeah, it's long and complex. I cannot wait to share.
What's on your booket list? Feel free to share in the comments below. No judgment.
Photo by Valentina Conde on Unsplash