Normally, book and writing tags grab my attention. However, since I'm dealing with a blog slump, why not do a blog tag to boost my morale until this ridiculousness passes its course?
I found this one via Life by Sunburnt Aloe who found it through Jemma @Dorkface. Enjoy!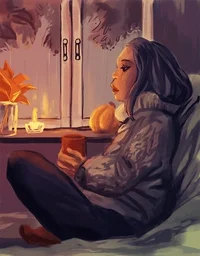 ---
Name?
Latanya (or Livey)
What is your favourite colour?
Give me red, orange, yellow, brown, and green. I adore warm colors.
What did you do today?
Drove my husband to the airport, sipped tea, added some items to my Paris packing list, take my kids to school (Day off for me!), and completed this tag.
Where are you currently?
On my bed
What is your star sign?
Sagittarius
Cake or Ice cream.
Ice cream cake
Frozen or Moana.
Moana
A night in or a night out.
Depends on my mood honestly, but most days give me a night in.
Home cooked meal or takeaway.
Home cooked meal. I like to see my family's anticipative smiles as I make their plates.
Pineapple on pizza or no pineapple on pizza.
Ew. Next question.
Books or films.
Books bring me joy. Films are fun, but they cannot compete with the former.
Autumn or spring.
Autumn for life! Crisp weather. Hot drinks. Cozy blankets. Horror movies. Eating without worry.
---
Flowers or chocolates.
Flowers! Roses, tulips, or sunflowers, please.
Full fat or diet coke.
Soda's not my thing unless I have a serious craving. But, if I had to choose, full fat. Make it count, right?
Phone or laptop
Depends on my needs. Writing? Laptop. Twitter? Both. Games? Phone.
What is your current favorite TV series?
American Horror Story, House Hunters International, and The Deuce
What is your favorite thing to do in October?
October's still warm in Los Angeles (Today's nearly 90 degrees!), but when the sun goes down, wrap up. A favorite thing is to watch AMC's Fear Fest, a two-week long horror film fest while sipping some tea.
What is your current food to crave?
Cucumbers. Don't laugh. My skin's awesome because of the extra water.
Do you have any piercings or tattoos?
Six piercings (all ears) and I keep caving in to not doing tattoos, though I'd like a literary room.
Are you an introvert or extrovert?
I'm an introvert.
What is your all-time favorite Halloween film?
Halloween. Seriously, I'm that easy.
Name your top 3 favorite artists/bands.
The Beatles, Mariah Carey, Michael Jackson
Have you got any plans for Halloween?
Candy fest with my sons (They're too old for trick or treating, so I bought massive bags of candy to eat) while eating pizza and watching horror movies. I'll buy stock in Pepto-Bismol.
Do you have any fears?
Failure. Not living to my potential.
Do you believe in life after love?
Yes
---
Do you have any children? (or animals you treat as your babies).
Two sons – Little CraftyScribbles, who's eighteen and Even Smaller CraftyScribbles, who's eleven.
What do you want for your future?
Peace, love, and joy for my family and me.
Be honest, why did you start blogging?
I write. I need as many avenues/platforms as allowed.
What is your biggest achievement so far?
I'm still here.
What are your ambitions with your blog?
More versatile and diverse content. Build my fellowship.
If there is one thing you'd like to change about your blog what would it be?
More postings. Ugh. I have to get on that stat.
Have you achieved any blog goals you set out to do this year?
Well, I'm continuing with this blog. That's a big goal achieved, lol.
Where do you want to be in 10 years time?
Publishing at least one book
What is your dream holiday?
A three-month European tour
If you had an entire day to yourself what would you do?
Spa day and writing poetry!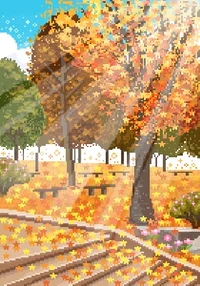 No specific tags necessary! If you want to play, have fun!